10.12.2023 -
Ever since Title 42's expiration in May, the unprecedented crisis at the southwest border has only gotten worse. Monthly encounters at the border have jumped since June, and reportedly exceeded 260,000 in September alone.
But this crisis is not just one of national security—it is a humanitarian disaster as well. And now the evidence is incontrovertible.
Earlier this year, the House Committee on Homeland Security launched a comprehensive, multi-phase oversight investigation into Department of Homeland Security (DHS) Secretary Alejandro Mayorkas' handling of the crisis, and on Tuesday, the committee released its third interim report pursuant to that investigation.
This report documents the devastating human costs of Mayorkas' policies, including a burgeoning fentanyl crisis, Border Patrol agents and their families overwhelmed by a historic flood of illegal immigration, and Americans falling victim to horrific crimes committed by those released into the interior.
SUBSCRIBE NOW FROM JUST $1 PER MONTH >
The crisis has also caused untold suffering for migrants themselves, both along the dangerous journey to the border and after they are released into the United States.
Our investigation uncovered numerous shocking findings, including a record number of migrants found dead on U.S. soil under Mayorkas' policies—more than 1,700. Customs and Border Protection (CBP) has stopped publicly reporting the number at all. One Texas sheriff estimated in 2022 that for every body his deputies find, there are another five to 10 they never recover.
Many migrants who do survive are scarred forever. Then-San Diego sector chief patrol agent Aaron Heitke told our committee in May 2023, "it's very common that female migrants are raped during the process" of traveling to the U.S. border. "Most of them believe it's just part of the payment as they go up." One Cuban woman who was assaulted during her journey told the Wall Street Journal in 2021, "Even if I make it to the U.S. and live out my American dream, I don't think I'll be able to say that crossing the Darién was worth it."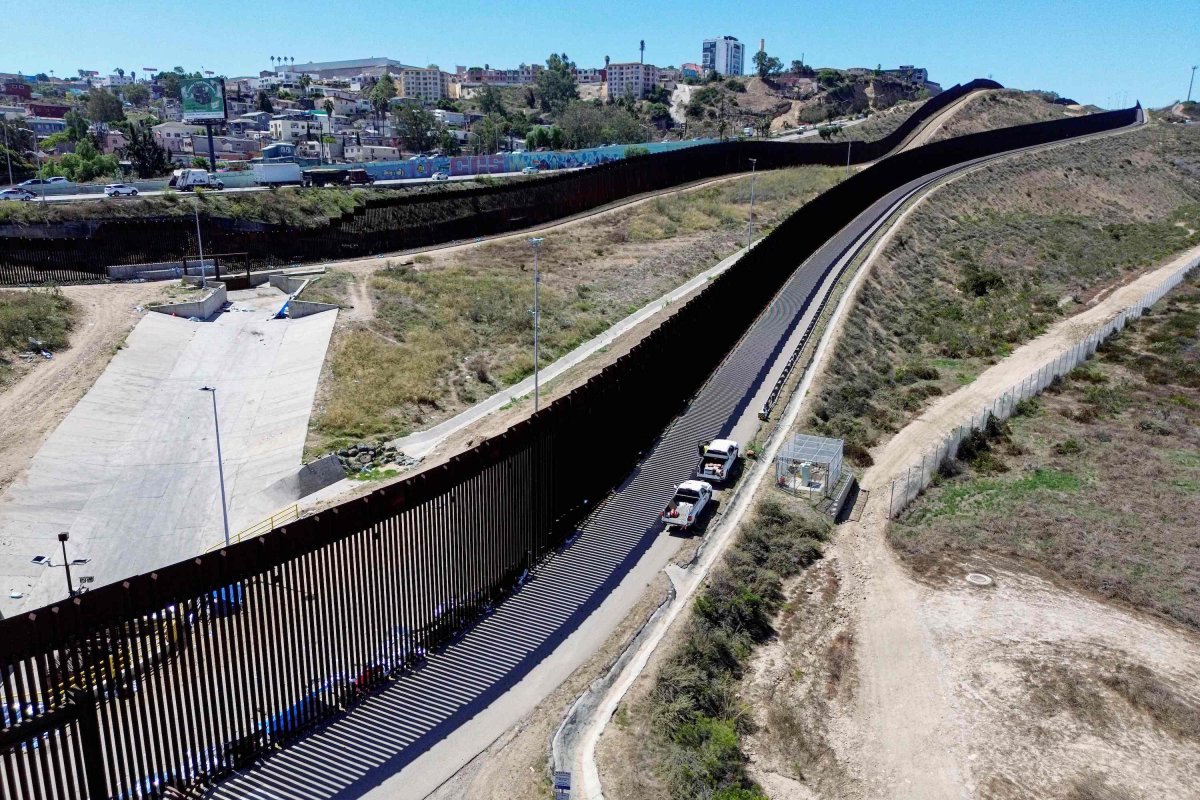 This aerial picture taken on September 14, 2023 shows the US-Mexico border, in San Ysidro, California, on September 14, 2023.SANDY HUFFAKER / AFP/GETTY IMAGES
SIGN UP FOR NEWSWEEK'S DAILY HEADLINES >
Finally, the unprecedented number of encounters of unaccompanied alien children (UACs) crossing the Southwest border—more than 400,000 since FY21—has represented its own massive humanitarian crisis. These children are exploited on their way to the border, and Heitke confirmed that single adults seeking quick release into the interior "will find somebody with children, and they will pay to take those children with them when they come to the border and say that they're their children so that they're more likely to be released."
Once these unaccompanied children make it to the United States, they are often taken advantage of by "sponsors," who easily exploit the process to assume custody of them. This is made even easier by documented Biden administration policies that prioritize rapid release of UACs over ensuring they are released to safe situations and legitimate sponsors. A 2023 Florida grand jury investigation into the administration's handling of UACs found that around 280,000 had been released to sponsors who were not their parent or legal guardian, someone claiming to be a family member without verification, or someone with whom they had no known relation. Many have been pressed into forced labor or sexual slavery, with the New York Times reporting earlier this year that approximately 85,000 have simply fallen off the Biden administration's radar.
There is a way out of this self-inflicted crisis, however—a way to end the suffering, abuse, and exploitation of countless thousands.
READ MORE
First, Congress should cut off funding for the policies driving this crisis. In recent days, the House of Representatives passed a robust DHS appropriations bill that fully funds the men and women of DHS law enforcement, but rejects Secretary Mayorkas' request for hundreds of millions of new dollars to further enhance CBP's new mass-processing operation. Many of these dollars would ultimately go to non-governmental organizations which use taxpayer funds to purchase transportation and lodging for illegal immigrants seeking to make their way elsewhere in the country—effectively doing the cartels' work for them by completing the final leg of the human smuggling chain that began in Mexico. It is simply absurd to keep sending DHS more money to not enforce our laws and not secure the border.
Second, the Senate must pass, and President Joe Biden must sign, H.R. 2, the Secure the Border Act, into law. This historic piece of legislation would help solve many of the problems driving the crisis, including closing loopholes that the criminal cartels have exploited to traffic and smuggle unaccompanied children into the United States at record levels.
Finally, Secretary Mayorkas must be held accountable for his failed leadership. Whether the failed policies are his or the president's, he has dutifully implemented and defended them from his first day in office. He has proved he either supports this failed agenda, or lacks the courage to either challenge it or resign in protest.
Ultimately, the solutions are too readily apparent—and the human costs of inaction too overwhelming—to ignore any longer.
Representative Mark Green, MD, is Chairman of the House Committee on Homeland Security.
The views expressed in this article are the writer's own.